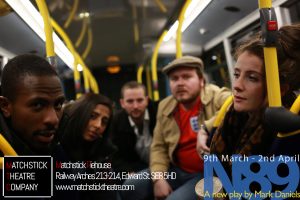 This hilarious comedy set on the N89 night bus will be returning to The Piehouse from 9th March – 2nd April 2020! Kim and Daniel will still be there. The fried chicken will still there. The fun, laughter and gasps will still be there. But the production is gonna be bigger and better.
N89, a play set on a night bus, written by Mark Daniels and directed by Edwina Strobl
Kim gets on at Trafalgar Square and she chooses the seat next to Daniel, before immediately falling asleep on his shoulder. This chance encounter leads to something special, as these two very different people go on a surprising journey through South East London together.
The smooching couple clutching fried chicken. The post-club partygoers looking for a fight. The guy who REALLY overshares whilst yelling into his phone. Everyone will recognise the classic night bus passengers in this fun, heart-warming comedy set on the N89.
Join them on board this VERY South East London play.
Image credit: Benjamin Wainwright, @benyaminwainwright
Cast:
Bradley Carpenter